Opportunities
Modern compensation challenges you to work smarter
Discover new ways to work and new opportunities for your success when you partner with the Salary.com team.
HARNESS YOUR POTENTIAL
Challenge yourself to think differently about compensation
To drive business success, you need to maintain focus on strategic compensation initiatives, while, at the same time, completing the day-to-day requirements of the annual compensation cycle. To execute this balancing act, you need powerful compensation software and professional services solutions that empower you to harness your full potential, work smarter, and deliver meaningful results.
Streamline matching and pricing
Salary.com is committed to improving your efficiency, speed, and accuracy. That's why we've accelerated the compensation process with an easy-to-use solution that streamlines the market pricing, recommends job matches and scopes across all your data sources, and delivers new peer-to-peer pricing insights for improved pricing accuracy.
Leverage new data points
Salary.com believes that 360° insights start with unparalleled access to your data. That's why we've built powerful new analytics that connect market compensation data, survey data, peer data, company data, job data, employee data, and data from external HR apps for new insights into market competiveness, pay equity, employee performance, and internal development.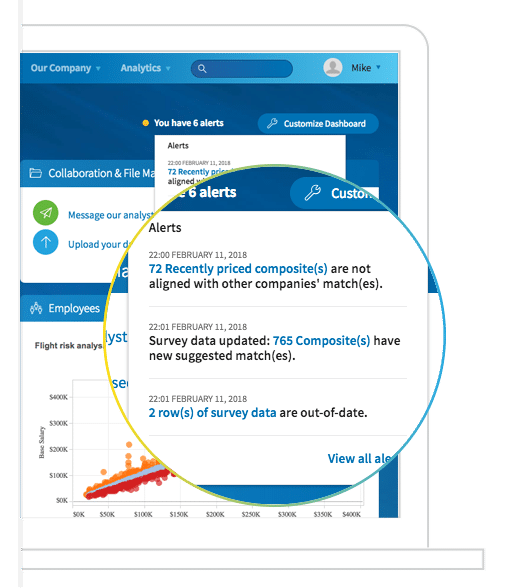 Discover proactive insights
Salary.com understands that it can be challenging for even the best HR practitioner to think beyond the tasks at hand when the peak periods of the compensation cycle hit. That's why we've designed proactive alerts and notifications to provide workflow guidance, deliver reminders, pinpoint potential data outliers, and identify trends to keep compensation processes on track and move the big picture forward.
Extend and support your team
Salary.com knows that the demands on your team typically exceed both hours in the day and resources at hand. That's why we've built a deep team of compensation professionals and data scientists who leverage more than two decades of experience to extend your team's capabilities and help you explore best practices, complete strategic projects, and dive deeper into pay analysis.
Digital Innovation in Human Capital Management 2017 Award Winner: CompAnalyst®
Ready for a test drive?
Every business is different. Schedule a demo to see how CompAnalyst fits your business needs.
THE MOST RECOGNIZED BRANDS:
Our customers