pricing
Align Pay and Jobs
CompAnalystⓇ Market Data + JobArchitectTM bundle unifies market data & job descriptions. Whether you are hiring new people or assessing compensation for current employees, adapt and keep up with the evolving job market quickly and easily.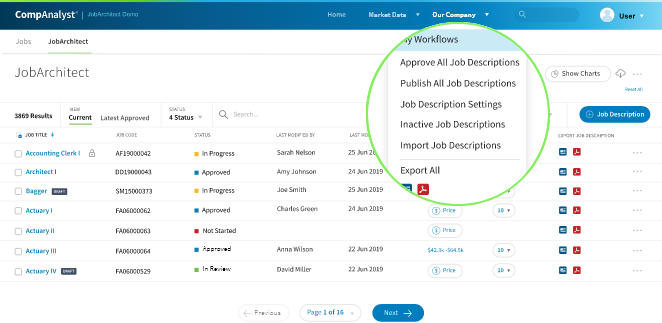 Centralized View of Your Jobs
One-Stop Shop: Keep all your job descriptions organized and always accessible.

Detailed Salary Ranges: Analyze your job's salary range data by your specifically defined scopes.

Customized Exporting: Export your customized, presentation ready, job descriptions to Microsoft Word and PDF documents

Streamlined Process: Easily create, edit, approve, and start workflows all within CompAnalyst Market Data + JobArchitect.
Instantly Price Your Jobs
Quick Market Pricing: Get salary ranges for all of your jobs in seconds with on-the-spot access to market pricing data.

Intuitive Job Matching: Automatically find job matches for your job descriptions within our largest HR reported database of 15,000 unique job titles down to the industry, company size, and geographic location.
Assess Internal and External Pay
One-Page Job Details: Always have access to the complete details of your company job, including the description, compensation, market data, and analytics.

Side-by-Side Comparisons: Immediately see the difference between company base average and market base 50th. Compare employee base salary and Total Cash Compensation to market.
Career Progressions Reports
In-Depth Analysis: One click and run and compare the related market range data for your jobs in the same family.

Complete Career Mapping: Communicate a clear career path for your employees. Help them identify what skillsets, competencies, or qualifications it takes to progress to the next level. All presentation ready.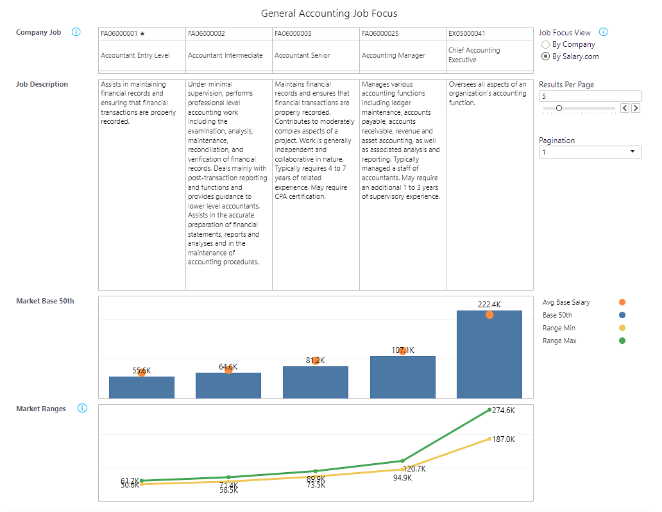 Insights You Need to Get It Right
The latest research, expert advice, and compensation best practices all in one place.