Compensation Software
CompAnalyst Survey Management
MODERN SURVEY MANAGEMENT:
Streamline your work with a powerful survey library
Streamline survey management, participation, and analysis with a single, centralized library for all of your compensation data sources.
Effortless participation
Automatically participate in surveys with one-click exports to third-party survey participation templates.
Streamlined pricing
Quickly find the right survey cuts for your composites with recommended job matches and automated scopes.
In-line alerts
Easily identify year-over-year pricing changes, out-of-date survey cuts, and mismatched jobs with new alerts.
PEER-TO-PEER INSIGHTS :
Recommended matches that deliver the right results
Match based on best practices, not guesswork. CompAnalyst's job match recommendations leverage machine learning techniques to interpret matching insights from more than 4,000 customers.
CompAnalyst Success Stories: Survey Management
Learn how Nicole Gregan, a Senior Compensation Analyst at Selective Insurance, has leveraged CompAnalyst's survey management solution to streamline her processes and achieve success.
Smart composites
Build, save, and share unlimited composites in a centralized tool that enables easy pricing across all your data sources.
Complete job trend analysis
Perform advanced job trend analysis and automatically update survey matches year-over-year with workflows designed to help you streamline survey management.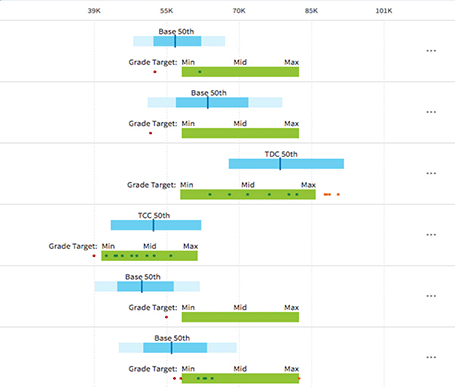 Enhanced data views
Compare pricing composites, employee salaries, and job data all in one place with new comprehensive data views and comparison options.
CUSTOM REPORTS :
Decision making made easy
Manage surveys more effectively. CompAnalyst's customizable reports deliver critical insights into survey utilization, year-over-year survey data changes, and job trend analysis.
Ready for a test drive?
Every business is different. Schedule a demo to see how CompAnalyst fits your business needs.
THE MOST RECOGNIZED BRANDS:
Our customers