BUSINESS
Insight-driven pay strategies start with CompAnalyst
Attract and retain world-class talent with the compensation platform that turns pay data into actionable insights.
COMPENSATION SOLUTIONS:
Data and analytics, reimagined
CompAnalyst is a new, proactive approach to compensation that delivers unparalleled insights into your pay practices.
Accurate Data
Get the broad data you need to make the right pay decisions.
Innovative Analytics
Turn data into insights with 360° reporting and analytics.
Award-Winning Technology
Streamline compensation processes with award-winning software.
Expert Service
Extend your team's capabilities with comprehensive support.
Powering strategic compensation at the world's biggest brands
COMPENSATION DATA:
Smart matches, fast prices
CompAnalyst delivers data from hundreds of surveys, along with true peer-to-peer matching and pricing insights, to help you get the right price for the right job every time.
Explore our data
Market data
Machine learning-powered global market pay data helps you price accurately.
Discover market data
IPAS surveys
Compensation survey data from 100 countries helps you build your compensation programs around the world.
Discover global survey data
Compdata surveys
US compensation and benefits survey data delivers critical total rewards insights.
Discover US survey data
WorldatWork's
First Virtual Data Partner
COMPENSATION SOFTWARE :
Easy workflows, deep insights
CompAnalyst streamlines workflows, automates processes, and delivers unparalleled insights that empower your team to make the right decisions, fast.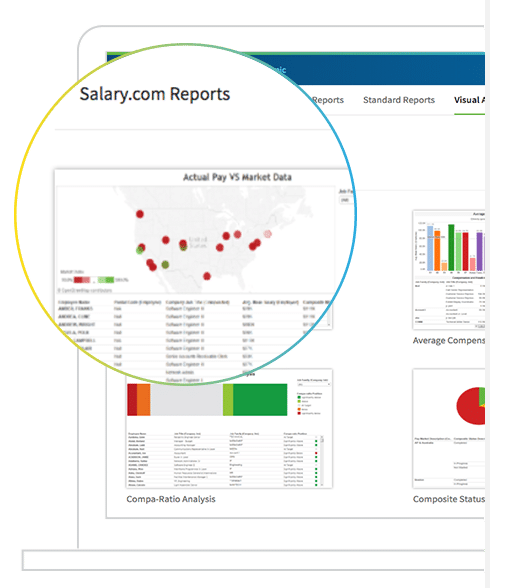 COMPENSATION ANALYTICS:
Your ideas, visualized
With fully configurable data visualizations and presentation-ready reports, CompAnalyst's 360° reporting and analytics help you understand and share the impact of your pay practices across your organization.
EXPERT SERVICES AND CONSULTING :
Comprehensive help, on demand
With a client-focused approach to services, support, and consulting, experts from Salary.com and Compdata help you solve your biggest total rewards challenges.
Ready for a test drive?
Every business is different. Schedule a demo to see how CompAnalyst fits your business needs.
THE MOST RECOGNIZED BRANDS:
Our customers