Pricing
Build Hybrid Jobs
Jobs are not universally the same across organizations, and sometimes it may seem like a role is taking on two or more positions described in the CompAnalyst database. CompAnalyst® gives you the ability to blend two or more benchmark jobs from the database to form a hybrid role and market price your roles with confidence.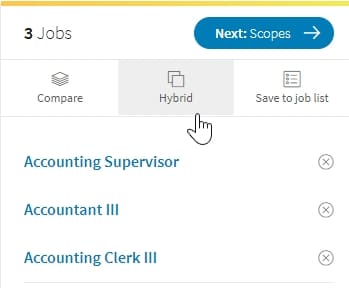 Create a Hybrid Job
Build Effortlessly: You can create a hybrid job directly from the job list page by selecting two or more jobs and using the "Hybrid" functionality. You can choose to create the hybrid job as an existing company job, as a new company job, or as a standalone hybrid job.
Adjust Pricing Factors
Modifications as You See Fit: Apply percentage premiums/discounts to alter the base or total cash compensation of each individual job.

Compensation at Your Control: Apply a weight for each CompAnalyst Market Data job depending on their relative weight in your company's position.
Insights You Need to Get It Right
The latest research, expert advice, and compensation best practices all in one place.